Bishop Chris walks The Celtic Way
On April Fools Day 2017 I joined Bishop Chris on a short hop from St Nicholas Church in Looe to Talland Church as part of his pilgrimage pioneering the Cornish Celtic Way.
Stretching 125 miles from St Germans to St Micheal's Mount and coast to coast this section was comparatively short and we left Looe heading West towards the coastal path. Passing the statue of Nelson the Seal and meeting folk along Hannafore we crossed fields between Looe Island and Lammana Chapel and onto the cliff path taking us to Talland Church.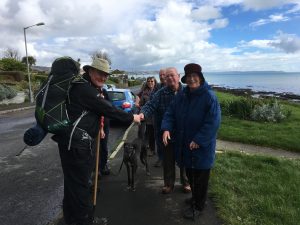 For more information about the pilgrimage route and where Talland Church fits in see our page Cornish Celtic Way